Dear Forum,
the
Form History
feature is useful, but sometimes Firefox remembers and lists also
bad entries
(usernames, e-mail addresses) due to
past wrong attempts
.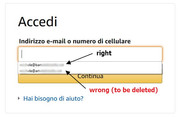 I could clear the entire
Form History
, but this would make also all the useful items to disappear.
How to singularly delete
only the wrong
or undesired ones?
And how, eventually, to delete
only the entries
listed when on a specific website/webpage form?
Thank you!