tanstaafl wrote:I looked again at the 4 screen shots and don't notice any differences between them other than the Archives folder, a big red arrow pointing to it and slightly different new mail counts. I didn't see the

grey [Gmail]

child folder for example. I am confused why your Sent Mail folder appears to have child folders (due to the > icon) but it appears to be that way in every screen shot.
No offense but youre confusing yourself. I'll reiterate the steps again I took to get to where the mail group looks now.
First, before I made any changes, the mail group included all the mail folders including [Gmail] folders. Look at the screen shot below: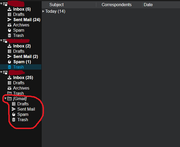 To rearrange the mail group, I went to: account server settings > advanced > and typed in [Gmail] into the IMAP server directory. After that the mail group looked like this:
Now youre asking, how did I get the Archives folder? I archived one mail from inbox. All is good except that the Archives folder DOES NOT have any of my old archives from before I made all these changes. The only way I can get my old archives back is by deleting '[Gmail]' from the IMAP server directory in the account settings. Now since I dont want that, again, how do I get my old archived mail into this newly created Archives folder???
I NEVER used webmail and dont care what it is. The best way for you to understand what I'm saying is if you do the same steps I made on your TB. Then you'll see exactly what I mean. Otherwise I'll have to create a new thread since this thread. Looking forward to your next reply.