I am really excited about this development! I have been looking for a way to group my tabs for a long time with no suitable solution found as of yet. Here is my feedback, would love to hear yours:
1. Grouping manually by subject / content - I open many tabs that are related by content i.e. Bodybuilding sites, Video Entertainment sites, Health sites etc that share no same parent or grouping other than the subject, my question is how can I manually add these to a group and assign a particular color to them?
2. Minimum
and
maximum width of tabs - Is this going to be added in the near future? I like both the maximum and minimum width of a tab to be 100, nothing more and nothing less is this possible to be added? = )
3. Double click to close? - I hate the close buttons is there a way to double click to close? I don't like to compare but TMP, of which I am a longtime user, has this feature where I can choose what action I want to do what for example ctrl and click on tab opens dupe tab etc.
4. If I have a parent and five children how do I see what the children are?
5. The scrollbar feature for tabs is it the same one as Tab Browser Preferences etc?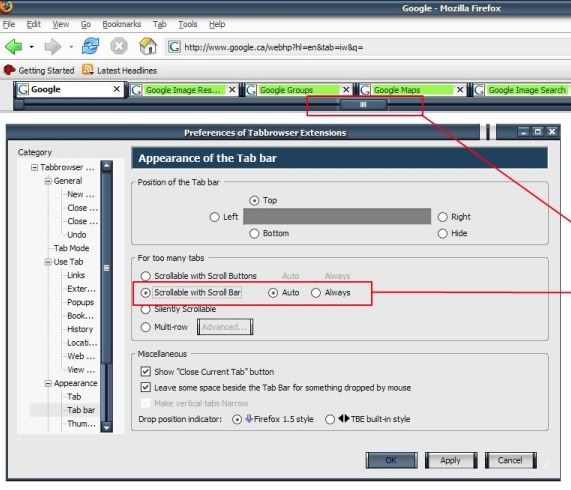 6. Opening all bookmarks, history, search and address into a new tab not the current tab. For instance if crashed and I have to open all my tabs from bookmarks in TMP I could just click any of the history link and they all open in new tabs whereas now I have to right click and choose "open in new tab" which is a serious PITA. = )
7. When closing a tab I would like it to just flip back to the last selected tab ...please?
I am most certainly a power user and have many tabs open most of the time. Also just so you know I have no use for a sidebar as I like as much screen as possible so I don't use that and I have no use for multiple rows either ( I really dislike that )
Thanks for this, honestly, I for one applaud your grouping Tab creation, just needs some refining IMHO.
Neoborn
TAB Kit: 8/10 needs tweaking.